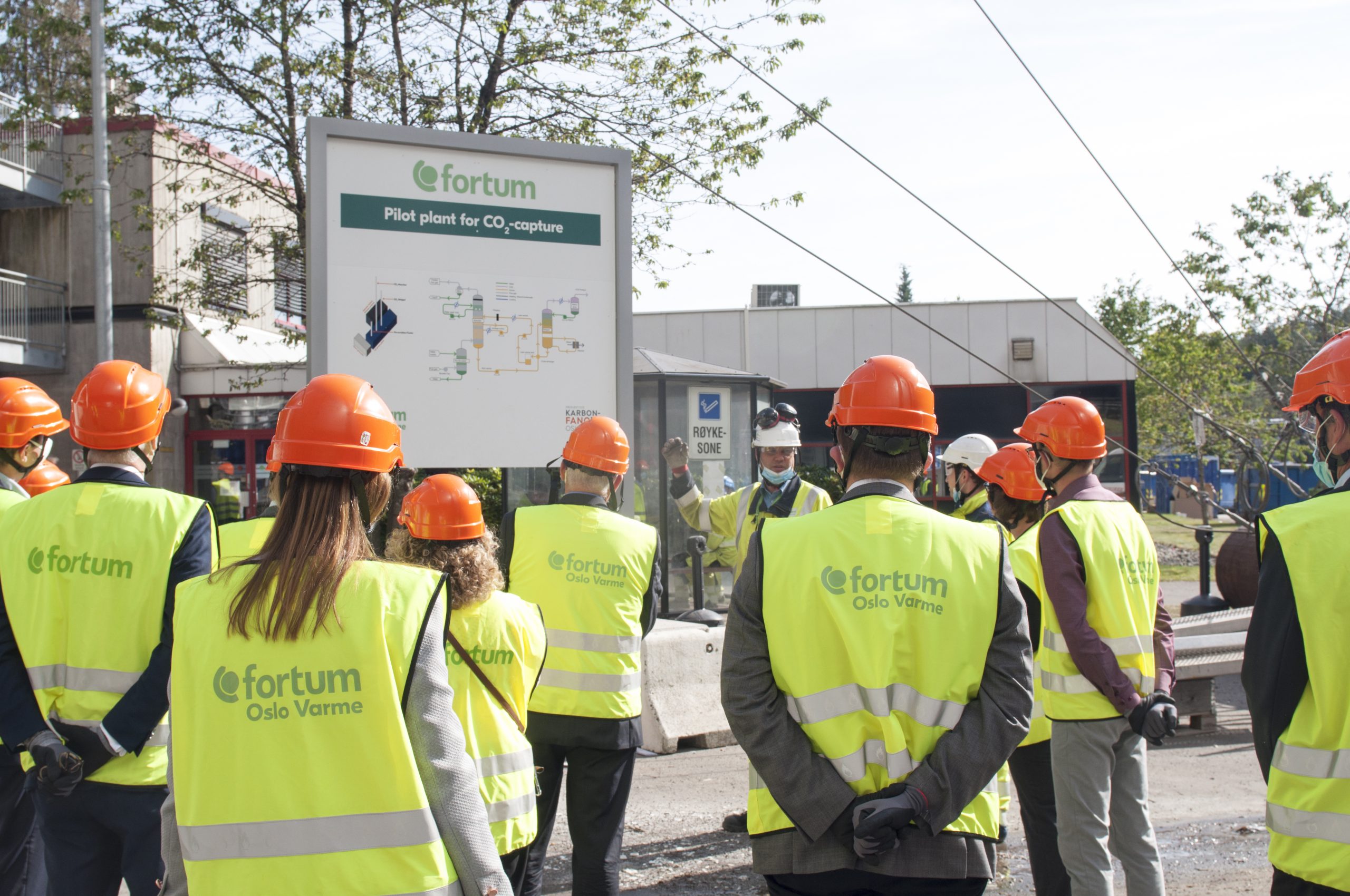 Den tyske delegasjonen får omvisning og presentasjon av CCS-prosjektet på Fortum Oslo Varme. Foto: Fortum Oslo Varme
Central German representatives on «CCS safari»
Together with the Norwegian Embassy in Berlin, Gassnova arranged a "CCS safari" for a German group of key politicians, representatives from German industry and the German Ministry of Energy. The goal was to share knowledge and experience from the Norwegian CCS work – with Langskip as the central theme.
---
The visit took place in week 35, and was carried out in close and good cooperation with the industry actors in the Longship project, Northern Lights, Technology Center Mongstad and the Ministry of Petroleum and Energy.
- Must work to create acceptance
- For the Norwegian energy sector, Norwegian climate policy and our own transition to an emission-free society, the imminent parliamentary elections in Germany are almost as important as our own parliamentary elections. It is therefore crucial that we work purposefully to create acceptance, interest and understanding of Norwegian solutions such as CCS in Germany, says Council of Ministers at the Norwegian Embassy in Berlin Jon Hansen.
Gassnova's environmental analysis for May addresses the growing political acceptance of CCUS in Germany (read the article here).
Hansen points out that Germany, as one of Norway's most important partner in Europe, plays a key role in ensuring that Norwegian technology, Norwegian companies and Norwegian knowledge are part of the solution to Europe's energy and climate challenges. - Therefore, this visit is very important, he points out.
A comprehensive program
The three-day visit had CCS dissemination and dialogue at the top of the agenda. The program started in Oslo, from there to Porsgrunn and then the Bergen area.
Oslo
Guided tour at Fortum Oslo Varme (read their news item here) and presentation of their CCS project.
Meeting at the Ministry of Petroleum and Energy where Secretary of State Tony Tiller had a welcome speech, together with Roy Vardheim, CEO of Gassnova.
Secure storage, presented by Gassnova.
The CCS work seen from Bellona, Zero, LO and NHO.
Porsgrunn
Presentation of "Green conversion" at Herøya industrial park with presentations from Yara, Eramet Norway and Industrial Green Tech.
The Bergen area
Presented experiences from secure storage
- All the program were very interesting. This is the first time I get a practical demonstration of something I have only known in theory. Of course, much is still at the theory stage, but now I can better imagine how it will work in practice. It was very important to me. I was particularly noticed in the high acceptance of CCS here in Norway. Here, the government has done a great job of involving NGOs and others. It was also important to get an insight into the geological situation, and to confirm that we can assume, with the highest probability, that the deposits are completely tight and that CO2 will not leak. This is still a point of criticism that plays a major role in Germany. I am now even stronger in the position I have had on this so far. When natural gas has not leaked in all these years, it can be assumed that the geological deposits are safe, says the politician Klaus-Peter Schulze from the party CDU/CSU.
- Germany must draw on the experiences from Norway
He continues to say that Germany do not have to reinvent the wheel, but draw on the experiences from Norway and find good solutions together. - I was really impressed with the technology center at Mongstad (TCM) that we visited, and the presentation of a green industrial park. Norway is a guide here. Cement production and waste incineration account for large CO2 emissions each year. Many new waste incineration plants must be built in Germany in connection with the phasing out of the coal power plants (which previously took care of much of the waste incineration), and then one should consider whether to build carbon capture plants here from the beginning, Schulze concludes.
Representative from the German lime industry positive to CCS
For the industry, such as the lime industry, which emits CO2 through the production of its products, this is currently the only way to become climate neutral, wrote Philip Nuyken, Head of Energy and Climate Policy at the Bundesverband der Deutschen Kalkindusteie e. V. on his LinkedIn profile after the delegation trip. He referred to the Langskip project, Norcem HeidelbergCement, Northern Lights and Fortum Oslo Varme.